And it begins…
Africa2Asia DTS has begun! Somehow we already made it to day 15. Wow. Just two weeks ago, we all arrived not knowing exactly what we were getting ourselves into and nervous of all these funny people we're supposed to be with 24/7 for the next 5 months. As we made our way nervously into the yard for lunch on that first day, we realized that 36 names is a lot to remember! After breaking the ice and spending the day trying to get used to a new environment, group of people, and home, we were already thinking about how hard it would be to say goodbye in 5 months time. We realized very soon that God had specifically called each of us here for a purpose and that He has an extraordinary plan for this specific group. How amazing is our God! For many of us, it's a miracle that we made it here today, and we can't wait to see what other miracles He will display His glory with. From the worship time on our very first night, we were overwhelmed with a sense of his presence and plan for this DTS.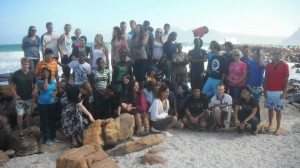 The first week was amazing. By the end of it many of us wondered if each week would be this impacting and intense! After a few days of orientation and learning the basics of our new home together, we got right into learning. Dan Shannon was incredible, we were incredibly blessed to have him speak to us about hearing God's voice, or rather, listening to God. We could hardly wait to go to class each day and hear his crazy stories, hilarious humor, and feel totally challenged on our own personal relationship with Jesus. One of the highlights of this week for all of us I think was when we practically learned how to hear by doing some blind prophesy! No matter how used to it we were, we closed our eyes and prayed for a person in front of us that we couldn't see, asking God for some sort of word or encouragement for them. And wow, did God speak! We were all blown away with what God has to say to us and through us. Some of us were just amazed that He could and chose to speak to us for someone else! Many of us were impacted through this, praise the Lord! Another big event of the week, was finding out our outreach locations! Out of the blue, we got all 6 locations and were told to pray about it and see where God wanted us to go! The next couple days were spent putting into practice everything that we'd learned in class. We all sought the Lord, and by Friday gave in an answer. We are still praying for the staff as they seek the Lord to make the final decisions! Then on Saturday we got exercise – wow! We all climbed to St. Else's peak to enjoy the most amazing view of the ocean and towns surrounding. Absolutely stunning, no words can explain. It was a great experience as a team!
Week 2 was just as impacting. Virmz really did his homework and somehow got us another very sought after speaker, Maureen Menard! Maureen was full of passion and zeal for Jesus, that much was evident, and it really rubbed off on us. She spoke about the character and nature of God. We learned about how very personal the one, true, living God is, and that through Jesus, we have fellowship with the Father, Son, and Holy Spirit! She also made times for worship in the middle of her lectures, which were awesome. What better thing to do after learning about God's character, than to praise Him!! On Tuesday morning during one of these times of worship, the Holy Spirit really made himself known in that place. We were all overwhelmed with a sense of His greatness and acceptance. He spoke to a lot of our hearts in many different ways, and we all left in awe of Him! This was also the first week of local outreaches. This was new for many people, but we all stepped out of our comfort zones and asked God for opportunities to share Him in some way with others. Whether it was on the beach, the streets, train station, or the bar, the Lord gave us opportunities to spread His word and share His love. I have no doubt that as we become more comfortable that even greater things will be done for His Kingdom! Some people took a homeless person out for dinner, others just had conversations with people that were curious about Jesus. On Friday we went out for the first time for our weekly outreach in the local townships! Wow, what a different part of town. We were introduced to new people and really had to trust God to lead and guide us. He is always faithful! One group even had a lady healed! She couldn't hear, but after they brought the power of Jesus down, she could hear! Praise the Lord! I have no doubt this is the first of many to come.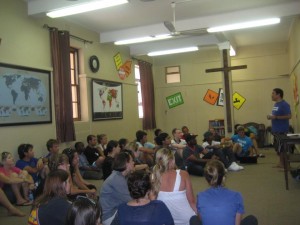 And now that brings us to week 3. We are all settled in and Muizenberg is starting to feel like home! The only thing is it's going by too fast! I know the other people from Canada will agree with me, this little town right on the ocean is so much better than -48 and snow back in Canada! Nothing can compare with those early morning runs on the beach and a dip in the cool ocean after. We are all really enjoying it here. How can you not love living two blocks from the beach, but more importantly, one block from Majestic Cafe (which happens to have the best ice cream ever).
We are expectant of the crazy things God will do next, He seems to have a lot in store. The weekends have been an awesome time to journal and process everything God is doing in our hearts.
Some prayer requests would be finances for outreach. There are quite a few people still trusting the Lord for their outreach funds. He's been faithful so far!!
Also pray for our outreach teams, that the staff will have wisdom in making last minute decisions and that all of our teams will be united and get a real sense of what God has planned specifically for us in 6 different countries. We are believing that He is bringing us there each for a specific reason because He needs certain things done there at that specific time to build His Kingdom! Also keep praying that we will continue to be united as a team and as a family. Each student has something to unique to bring to the group, all of the staff are so clearly called by the Lord, and our leader Virmz is such an amazing man of God and example of a Christ follower – praise the Lord! Thank you all so much for your prayers and support!!
We can't wait to see what this week will bring…the topic is sin, repentance, and forgiveness. We're ready, Lord, for the work you want to do in us and through us this week! Thank you, Jesus! Just like our theme verse for DTS says, you are the WAY the TRUTH and the LIFE! Amen!
By Gina van der Linde